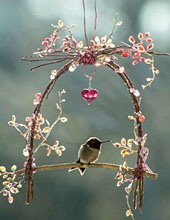 Obituary for JUDITH PORTZ
JUDITH G. PORTZ, age 93, died Tuesday morning, February 27, 2018 at home with her family in Arroyo Grande, California.

She was born April 21, 1924 in Springfield, Ohio to Andrew Norman Grube and Adella Margaret (Taylor) Grube.

She attended Elmwood Elementary, Schaefer Junior High and graduated from Springfield High School in 1942. After graduation she worked at the Springfield News-Sun and the day after her 20th birthday she enlisted in the United States Marine Corps Women's Reserve and served for the duration of World War II.

On August 31, 1946 she married Henry George Portz, also a Springfield native and SHS Class of '42 graduate, in Fourth Lutheran Church, Springfield, Ohio.

The newlyweds attended Arizona State University at Tempe but returned home for the birth of their first daughter, attended Wittenberg College and welcomed their second daughter.

In 1953 the family moved to Garden Grove, California where they lived for 43 years before moving with their daughters and grandchildren to Arroyo Grande in 1996.

A lifelong Republican, she was President of the Garden Grove Republican Women's Club in the early 1960s, an admirer of President Ronald Reagan and supporter of conservative causes.

Judy was preceded in death by her parents, her sister Joan and brothers Norman and Don. She is survived by her husband of 71 years, two daughters, three grandchildren, and one great-grandson.

A celebration of her life will take place on the anniversary of her 94th birthday.

Interment will be at Renners St. Paul's Church Cemetery in Fresno, Ohio.