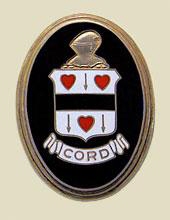 Obituary for HENRY GEORGE PORTZ
HENRY GEORGE PORTZ, died at home with his family in Arroyo Grande on Tuesday afternoon, March 13, 2018, at the age of 93. He was born November 9, 1924 in Springfield, Ohio to Harvey Oscar Portz and Hallie (Wright) Portz.

He grew up in Springfield attending Jefferson Elementary School, Roosevelt Junior High, and Springfield High School where he played football and was a member of the model airplane club, building and flying his gasoline engine-powered models at state-wide meets.

His childhood heroes were the aces of World War I and aviators of the 1930s national air races. In 1938 he won first place at the Ohio State Fair with his model of a WWI Spad Biplane, and in 1940 his scale model of Thompson Trophy winner Roscoe Turner's 1939 Turner-Laird won first place in the Ohio State Fair Junior Division. He took his model to the national competition that year at the New York World's Fair where he also took first place in his category. That model is now on display at the Smithsonian National Air and Space Museum in Washington D.C.

After graduating from high school in June 1942, he was employed for nine months by the US War Department at Wright Field in nearby Dayton, Ohio making model airplanes to scale for wind tunnel testing. In March 1943 he entered active service in the United States Army Air Force and served as an Airplane Instrument Mechanic and Instructor until February 1946.

On August 31, 1946, at age 21, he married Judith Grube, also a Springfield native and SHS Class of '42 graduate, in Fourth Lutheran Church, Springfield, Ohio. They celebrated 71 years of marriage together last year.

A self-described "Cord freak" since he was 13, he bought his first Cord, an 810 Westchester, in 1949, then Earl Hohlmayer's Cord 812 Cabriolet in 1950. It was the tow vehicle that moved the family's belongings to Garden Grove, California in 1953 where they lived for 43 years before moving with their daughters and grandchildren to Arroyo Grande in 1996.

During his Cord-less years (1956-1979) he commuted to his day job in his 1956 Jaguar XK140M and later in his '65 Jaguar XKE. Those day jobs consisted of draftsman, machinist, tool designer, and mechanical engineer. As Senior Tool Engineer for Space Division, North American Rockwell in 1968, he co-designed a remote-controlled tig-welding system for the heat shield on the Apollo 6 Command Module, later "retiring" to do what he loved most: work on Cords full-time.

In 1979 he started building his dream car which club members dubbed "The Hulk" that earned him a trophy–a rubber mallet labeled "Most Ambitious–Least Likely to Succeed." But his nickname for it was "Der Phoenix" and 32 years later it arose from the ashes. In 2010 he received an ACD Man of the Year Blue Blazer for his life-long promotion of the Cord marque, and in 2011 the Bill Bocock Owner Restoration Award.

He loved his Cords, Jaguars and El Camino, big band & organ music and Nat King Cole, John Wayne and Ronald Reagan, movies about fighter pilots and cowboys, antique and WWII-era guns, going to as many Auburn Cord Duesenberg meets as possible, and revisiting the places where he grew up in Springfield when he was back for the Auburn meet. He was always ready to help solve any mechanical or car problem and was a great source of information to his Cord buddies as a Cord 810-812 Club Technician and frequent contributor to the ACD Club Forum.

Henry is preceded in death by his parents, his brother Matt, and his sweetie and wife, Judy, who died just two weeks prior. He will be deeply missed by his two daughters, three grandchildren, a great-grandson and his ADC family.

Henry and Judy will be buried together at Renner's Saint Paul's Church Cemetery, Fresno, Ohio where his parents, grandparents and great-grandparents are buried. The family will return to Ohio in the fall for interment of their ashes and military ceremony.

A memorial slideshow at the ACD West Coast Meet at Morro Bay in June is planned. Friends and family are welcome to share their stories and memories of Henry on the tribute wall. If you'd like to make a donation in his memory, his favorite charity was the Wounded Warrior Project.